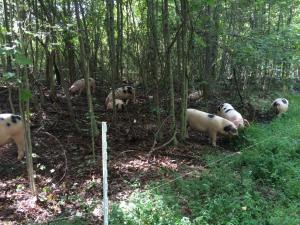 How to Buy Timber Raised Pork from Grassfed Farms
Go whole hog and buy your pig on the hoof direct from the farm
Our pigs are ready for the table when they reach 250 to 300 pounds. The price is $2.50 per pound. In addition there is a $50 processing fee and the cost of cutting the carcass to your specifications and vacuum packaging is .65 cents per pound. The carcass weight or hanging weight is approximately 75% of the live weight.
Go Half Hog
When you go half hog you will have to wait until we can match a buyer for the other half. The price is $3.25 per pound plus $25 processing fee and .65 cents for butchering and vacuum packaging. Example: A 250 pound pig on the hoof will convert to about 187.5 carcass weight. One half will equal approximately 93.75 pounds. So your price will be 93.75 pounds times $3.50. About $328.13 plus the processing and packaging fees paid to the processor. Here is the typical half Hog Pork Cuts.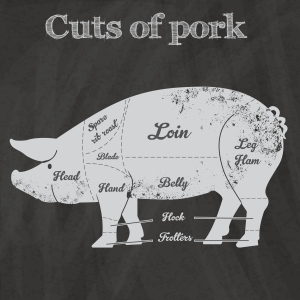 1lb tenderloin
12-14 lbs of pork chops apx
1-2 packages of spare ribs – 3-5 lbs apx
2 hocks/shanks
6-10 lbs ground pork/sausage
1 ham (15-18 lbs total)
8 to 10 lbs bacon
4 lbs lard
Additional Packages include feet, neck, bones, jowl, and liver
(Just double this if you are buying "Whole Hog" )
Buy Individual Cuts from Our Farm Store
We have individual cuts as described above available that can be purchased from our farm store. You can try before you buy. We strive to keep our farm store page inventory up to date but inventory changes quickly when you are ready to buy e-mail us at murray@grassfed.us.com or give us a call 404-316-4679 to place your order.
You will appreciate that we spend extra time finishing our pork in wooded timber areas on our farm the natural way without growth hormones. That's why we call our pork "Timber Raised Pork"  You will find the taste, tenderness, and health benefits well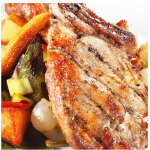 worth the price.
Buy a Roaster
Many customers like to buy the whole pig to roast for a special event. We sell our roasters for beginning at 75 pounds for $2.75 per pound live weight. Our process0r will charge a $75 processing fee. Your cost is $2.75 times the live weight of the pig when it leaves the farm plus the processing fee paid to the processor. Example: (roaster pig weighing 75 pounds) 75 pounds X $2.75 = 206.25 Processing fee = 75.00 Total 281.25 Prices are subject to change without notice.
             http://www.peta.org/issues/animals-used-for-food/factory-farming/pigs/pork-industry/