How To Buy Grass Fed Beef From Direct from Grassfeed Farms
Buy The Whole Cow–Is Our Best Deal!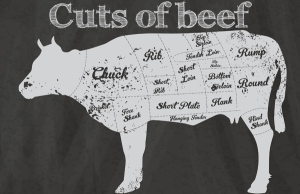 Buy the whole cow. Most of our cows weigh between 1000 to 1200 pounds when they are finished and ready for the table. When you purchase a cow we will weigh it and deliver it to the processor. You may use our USDA inspected processor or a processor of your choice within 50 miles. Payment is due for the cow when it leaves our farm. Our USDA inspected processor is Blalock Meats in Rabun Gap, Georgia. He will butcher your cow to your specifications. You pay him directly for his services. E-mail us at murray@grassfed.us.com for current pricing or fax our call us at 706-754-8313 and we will send you the latest pricing and processing details.  
---
Buy Half Of A Cow—The Great Deal! Buy half a cow. It is an  economical way to buy grass-fed beef! The average family can feast on premium stakes, roasts, ribs, shanks, stew meat, and ground beef for a year. Depending on the individual size of animal the average one half of the carcass hanging weight will range from 300 to 360 pounds of meat. If you are interested in purchasing half a cow contact us at murray@grasfed.us.com and put your name on the list to be matched with the next half cow buyer. Your orders will be processed on a first come first served basis. The processing fee and cut and vacuum packaging fees are paid to the processor by the buyer. (Processing fee of $25 plus .65 cents per pound for vacuum packaging.) Just at tip! You will need about one cubic foot of freezer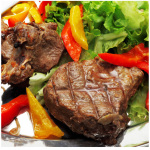 space for each 35 pounds of beef. So, 300 pounds of beef will require approximately 9 cubic feet of freezer space. Your meat will be aged for 14 days prior to processing which is ideal for maximum taste and tenderness for grass fed beef. You can speed up the process if you partner with another individual who will purchase the other half of the cow. We will complete the sale when we have a buyer for the other half. Most of the time we have a list of buyers who want to purchase of half so let us put your name on the list.
---
Buy Individual Beef Cuts We have individual cuts available that can be purchased from our farm store. If you want to try before you buy we have NY Strip steaks, Fillets, Rib eyes, Boneless Sirloins, Beef Stew Meat, Beef Rump Roast, Beef Chuck Roast, and Cube Steak, and Hamburger available in our farm store. Just click here for the current assortment.  We keep our farm store page up to date but our inventory changes daily so e-mail us at murray@grassfed.us.com to see what we have available, or, you can call or fax us at 706-754-8313.  You will find the taste, tenderness and health benefits well worth the effort to buy direct from the farm.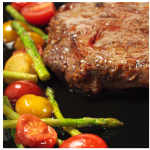 ---
Money Back Guarantee! If you are not pleased with the beef you have purchased from Grassfed Farm just bring it back and we will refund your money on any cut that is in the original sealed unopened package.  The only thing we ask is the you certify that the meat you are returning has never been allowed to thaw from its original frozen condition.
---